As part of the "4 per 1000" virtual fair, the Soil Innovation Day will bring together participants of all stakeholder groups from the EU and all over the world to exchange on their latest ideas, projects and achievements in advancing soil health for climate and food security.
vocational training | ecosystem services | nature-based solutions | environmental standard | geographical information system
Online only
Country

France
Practical information
When

Where

Languages

French, Spanish

Part of

Website
Description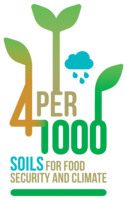 The event will be divided into an English, a French and a Spanish speaking session. The first part of each session will be dedicated to the presentation of ideas and projects, while the second part will provide room for exchange and interaction.