In the online conference will take place scholars, youth workers and youth which will discuss about sustainability, under the 3 pillars of environment, economy and social issues, as designed from ONU and EU. Attending meeting (Paolab included): organizations from Latvia, Italy, Spain; scholars.
green economy | environmental standard | educational guidance

Monday 5 June 2023, 18:30 - 19:30 (CEST)

Online only
Country

Italy
Practical information
When

Monday 5 June 2023, 18:30 - 19:30 (CEST)

Where

Languages

Italian, English

Part of

Website

Social media links
Description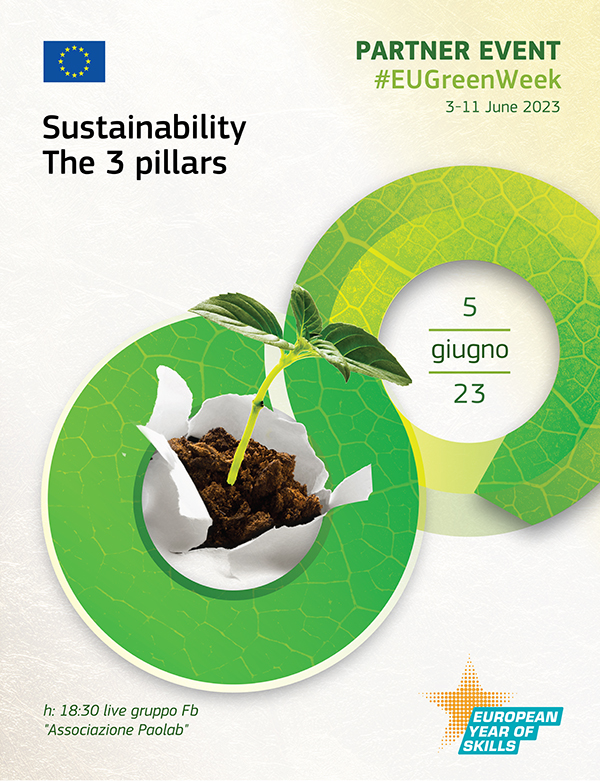 The association Paolab is pleased to announce its presence at the events planned for the Green Week promoted by the European Union. Events across the EU will take place from 3rd to 11st of June, to reflect and promote green practices at local and international level. We too want to make our contribution with an online initiative scheduled for Monday 5th June, starting at 18:30 with a live broadcast that will be shared on the Facebook group "Associazione Paolab"
Guests of the initiative will be Nadia Gambilongo - sociologist, Guarantor of the Green at City of Cosenza, Walter Nocito - professor of Public Law at the University of Calabria, Maria Zaharieva - "Tilia" association operating in Spain and Maija Sofija Ozolina - "Dari Vari" association operating in Latvia . Will coordinate the work for "Paolab" Emanuele Carnevale.
This will be a precious opportunity to think about the theme of Sustainability, taking into consideration the three pillars on which it is based.
Together with our guests we will exchange good practices and learn more about the respective realities on the issues of Environmental, Economic and Social sustainability.
We are waiting for you online to contribute to a discussion that we hope will be full of ideas and interventions. To interact live it will be sufficient to post a comment on the Facebook platform.